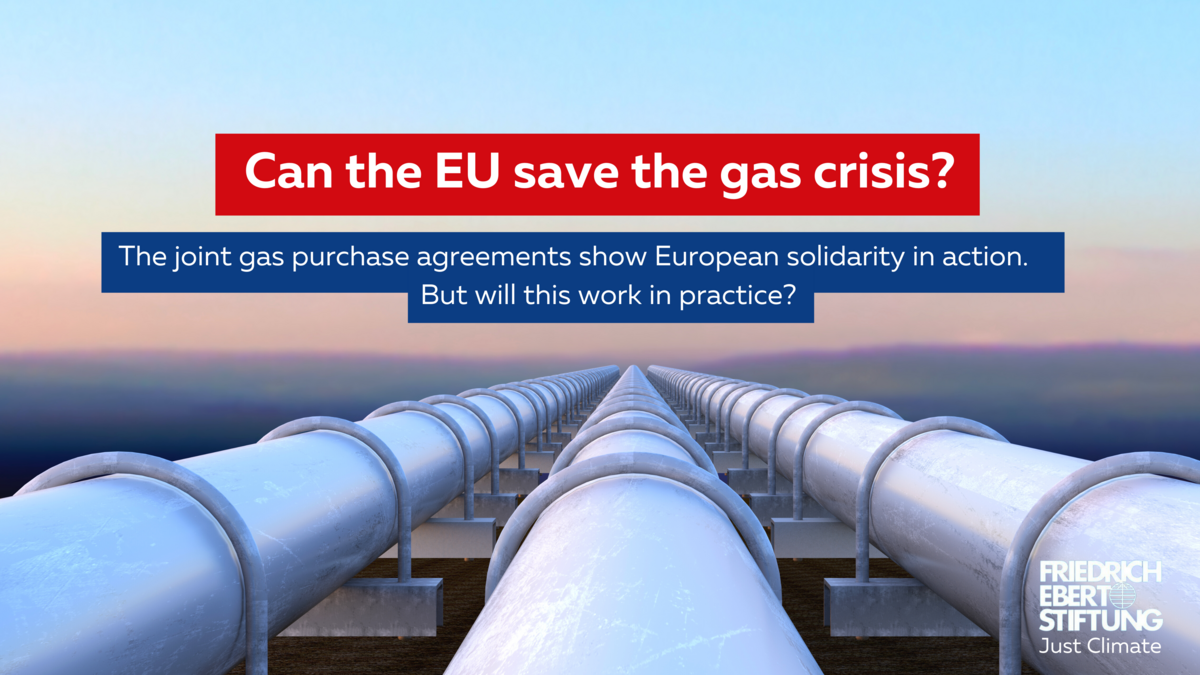 In March 2022, EU leaders agreed to jointly buy natural gas, liquified natural gas (LNG), and hydrogen in an effort to protect citizens from skyrocketing energy prices and lessen reliance on Russian imports. This is one of the EU mechanisms guaranteeing solidarity among the Member States in case energy supplies are cut off. In theory, this shows European alignment and solidarity in action. But will this work in practice? Will we now experience a truly united European energy front?
The idea of joint gas purchase agreements is not a new one. In April 2014, the then Prime Minister of Poland, Donald Tusk, proposed this instrument for jointly buying gas, as part of the "EU Energy Union" framework. In order to improve the collective negotiating power of the gas importing companies in the Member States that are heavily dependent on Gazprom as the main gas supplier, he considered the creation of a mandatory system for the joint purchasing of gas in the EU. By contrast, the European Commission has announced in its Communication on the "Energy Union" of 25 February 2015 that it wants to examine "options for voluntary demand aggregation mechanisms for collective purchasing of gas during a crisis and where Member States are dependent on a single supplier," subject to the requirement that these are "fully compliant with World Trade Organization (WTO) and EU competition rules." The Commission's suggestion was politically endorsed by the European Council in its conclusions on the Energy Union on 19 March 2015. Member States have endorsed the voluntary option of this mechanism as a compromise because several national governments were not keen on promoting mandatory joint purchases due to their different national policy view. However, nowadays the energy policy landscape is changing at the speed of light and this instrument might be more relevant now than ever. Let us explore the arguments in this regard.

In December 2021, the European Commission once again proposed the option for voluntary joint purchase of gas reserves. This announcement came in the context of record-high energy prices: Europe's gas prices have been on a rollercoaster ride since October 2021, at times reaching prices between 10 and 20 times higher than in the spring of last year. In addition, there were growing concerns over the security of Europe's gas supply – amid lower than expected exports from Russia and political tensions over the build-up of Russian troops on its border with Ukraine. This situation has left some EU governments seeking ways to effectively deal with the crisis on the energy market. European Union countries such as Spain, Greece, and Romania have been particularly active in calling for joint gas purchases. According to them, this would help shore up supplies and secure better conditions in global markets. In this sense, Kadri Simson, the European Commissioner for Energy, said the process of joint gas buying is "straightforward". "Member States that wish to do so define their own parameters for the joint action – how much gas is to be bought, for how long, how this gas would be used in an emergency situation, and then they inform the Commission", Simson said. The Commission would then inform the other Member States of the action being taken and check that energy market and state aid rules are respected. "In this regard, this is a true European bottom-up approach. Member States organise themselves voluntarily according to their needs and at the same time the Commission is involved to ensure transparency, respect of the rules and experience sharing." She also highlighted that these proposals would strengthen the security of gas supply and enhance solidarity between the Member States.
Ultimately, Russia's invasion of Ukraine on 24 February 2022 has impelled the EU heads of government to speed up their efforts to decrease Europe's dependency on Russian gas as the bloc seeks to replace nearly two-thirds of gas imports this year from its biggest supplier. The political endorsement for the joint gas purchase agreements took place during the EU Council summit at the end of March this year. At the news conference following the two-day summit, European Commission President, Ursula von der Leyen, highlighted that "the energy mix and concrete situation in our Member States is very different. But we need to work together to pull our weight … We will now use our collective bargaining power. Instead of outbidding each other and driving prices up, we will pool our demand." This proposal has also been endorsed by EU national governments. For example,German Chancellor Olaf Scholz said the idea to voluntarily bundle purchasing power and buy natural gas on the market could help keep prices down. Belgium's prime minister, Alexander De Croo, said in an interview with the Financial Times that the EU should draw on the success of the European Commission's joint Covid-19 vaccines procurement and make a combined effort to secure large quantities of gas. He compared the situation to the early months of the Covid crisis, when some Member States contacted vaccine manufacturers to negotiate their own supply deals. "Then the Commission intervened, and said we will do it for everyone, we will have a solidarity mechanism," he recalled.
Some experts argue that gas is much more problematic than purchasing vaccines. Energy experts listed the following main challenges that Europe might face in setting up the mechanism of joint purchase agreements:
It only works if everyone's in: Purchasing power works best if you're buying a lot – and right now it's not clear what percentage of the EU's gas would fall under the proposed joint procurement programme. The Commission sees itself setting up a contracting platform for interested countries, "collecting gas orders and matching supplies" through "bilateral negotiations with major gas producers". But many EU countries are already tied into long-term gas contracts. If the joint platform is only buying the equivalent of an extra top-up, it's less attractive.

Getting the gas is going to need political muscle: Georg Zachmann, senior fellow at the Bruegel think tank in Brussels, underlined that 'there's a lot of money involved, and if the Commission is going to be signing deals worth dozens of billions of euros with state companies in difficult countries, there are political considerations that might get into the decision on who to buy from and how much to pay them". However, at the same time he added: "We need it. It does not make sense for all these different [national] ministers going to all these different places offering whatever they can offer in terms of side deals so that their companies can get the gas."

There is a risk of breaking EU competition rules: Having the EU negotiate favorable deals for private or partially state-owned energy companies on a special platform raises antitrust alarm bells. Leigh Hancher, senior adviser in the antitrust and competition law practice at Baker Botts in Brussels highlighted that "If you're [French gas firm] Engie, let's say, and you were in there, you'd be quite happy, and if you're BP and you're not, you'd be less happy."

Distribution of the purchased gas will be a headache: EU countries have different levels of gas reliance on Russia, and not every Member State has storage facilities or direct access to an import terminal for cargoes arriving via ship. "The main challenge is distributional in nature," said Zachmann. "Finding a way to ensure the risk sharing is done in a way that is acceptable to all ... there are a few countries that are more responsible than others for the current situation, and finding a nice way out for them by letting others pay is not going to fly easily." EU countries are notorious for squabbling among themselves, and once the moment for international unity around the war in Ukraine fades, these tendencies are certain to return.

It's already boosting gas prices: The Commission wants the mechanism to be in place by this summer so that the EU can fill up its storage before the winter heating season. But this move could also impact energy prices. The recent market experience shows that in March, the Commission proposed mandating that countries fill up their storage to 90% by October 1, which sent prices soaring from about €70 per megawatt-hour in January to a record €210 in early March. The Commission quickly retreated and said it wants storage filled to 80% by November 1, causing prices to drop back to €108.
Nevertheless, on the other side of the debate, there are also arguments in favour of this mechanism. For example, Christian Egenhofer, Associate Senior Research Fellow at the Centre for European Policy Studies (CEPS), said that an effective joint gas purchasing plan could stop the Member States from competing with each otherin buying gas but also from presuming to offer shabby deals to autocratic rulers. More transparency on where the gas is coming from and under what conditions can only help governments hold firm on values. It will also help to increase transparency in markets. In addition, and more long term, the joint gas purchasing platform could lead to a truly European security of gas supply policy in a way the EU Security of Gas Supply legislation has never been able to do. At the same time, joint gas purchasing will need to trigger the formulation of certain rules – principles, distribution keys, priority customers, etc. – to redistribute the gas, notably in times of crisis. Furthermore, according to Simone Tagliapietra, an energy expert at Brussels-based think tank Bruegel, it is a mistake not to try and tackle the problem of gas prices now. "Europe is the world's biggest importer of natural gas. If it moves together the EU can use its economic clout to negotiate better prices," Tagliapietra said.

Despite the many points of criticism mentioned above, the European Commission has already established with the Member States an EU Platform for the common purchase of gas, LNG, and hydrogen called the EU Energy Purchase Platform. It is described as a voluntary coordination mechanism, bringing together the Commission and the Member States, supporting the purchase of gas and hydrogen for the Union by making optimal use of the collective political and market weight of the EU. The Platform is built on existing EU policy initiatives with Member States, transmission system operators, associations, and market players. Furthermore, to ensure access to market insights and expertise on the gas supply chain, the Commission will also establish a dedicated consultative working group consisting of industry experts. This group will have an advisory role and operate in compliance with EU antitrust rules, with strong safeguards against conflict of interests.
On 8 April 2022, the European Commission hosted the first meeting of the Platform, which discussed the structure and the working priorities. The newly created Platform will ensure cooperation in the following areas:
Demand pooling: The Platform will work with Member State representatives to maximise leverage to attract reliable supplies from global markets and at stable prices that reflect the predictability and the size of the common EU market.

Efficient use of EU gas infrastructure: The Platform will coordinate actions to maximise LNG imports absorption, comply with gas storage obligations, and ensure security of gas supply. It will also help identify additional infrastructure needs, suitable to cater to future hydrogen use.

International outreach: Considering the need to secure significant volumes of non-Russian gas already in 2022 and the tightness of the global market, the Platform will also coordinate and reinforce the EU's international outreach to gas partners and markets. This will include the main LNG exporting and importing countries with a view to define and agree on potential arrangements for diversification, including a move towards hydrogen. This work will take account of partners' supply capacities, long-term contracts and existing as well as planned interconnections and storage infrastructure in the EU. The recently announced EU–US Joint Statement on European Energy Security is a guiding example.
Importantly, Ukraine, Georgia, the Republic of Moldova, as well as the Western Balkans countries, can join the collective gas purchasing agreements. Switzerland also used this opportunity to secure gas reserves for itself. According to the statement published by the energy ministry, Switzerland, Germany, Austria, Belgium, France, Luxembourg, and the Netherlands signed a joint declaration, pledging to work towards coordinating storage efforts on a regional level. Pursuing this joint approach makes sense for non-EU member Switzerland because the country is also affected by the turbulent gas market and lacks significant storage capabilities.
On 27 April 2022, state-controlled Russian energy company Gazprom said it was cutting off Poland and Bulgaria because they refused to pay in Russian rubles, as President Vladimir Putin has demanded. European Commission's President Ursula von der Leyen reacted and highlighted in her statement that "Both Poland and Bulgaria are now receiving gas from their EU neighbours. The era of Russian fossil fuels in Europe will come to an end."
National governments have also reacted to the Russian move. The Polish Climate and Environment Minister Anna Moskwa stated that "Poland is an energy-secure country, which does not have to and will not yield to gas blackmail by Russia." "For now it seems there are no big supply risks," said Robert Tomaszewski, senior energy analyst with Polityka Insight, a Polish think tank. However, Poland's situation would be more difficult if Russia turns off the taps to other EU countries like Germany, which gets the bulk of its Russian gas via the undersea Nord Stream pipeline. Bulgarian Energy Minister Alexander Nikolov also said that the loss of Russian gas won't cause much disturbance. In its interview with Le Monde, Nikolov stated that Bulgaria counts on the European Commission's common purchasing strategy to buy liquified gas.
Next steps
The EU has pledged to quit Russian fuels by 2027, and will unveil a detailed plan in May on how to do so. The joint gas purchase agreements will also be discussed during the EU summit planned for the end of May. National governments will take this opportunity to discuss the state of play in terms of gas storage capacities and the ways others can help to sustain the gas supply.
Conclusion
At first, this measure of joint procurement of gas has been welcomed with a grain of skepticism and Member States were not very eager to pursue this EU approach. However, as we have seen recently, during the times of aggravating energy crisis combined with geopolitical threats, this instrument is more relevant than ever. It is already showing its necessity as Bulgaria announced that it would opt for the purchase of LNG through the proposed joint agreements. What can be stated for sure is that it is now time for the EU to show a truly united European energy front, especially when the mechanism to do so has been already put in place. In the end, the measure's effectiveness will depend on the quantity of volumes that will be purchased and how many Member States will adhere to it.
Reghina Dimitrisina is Policy Advisor at FES Just Climate. She possesses expertise in climate and energy policies and European affairs. Prior to joining the FES Team, she worked as Policy Officer for the European Geothermal Energy Council (EGEC) and advised MEPs from the S&D and EPP political groups in the European Parliament. She studied international relations and political communications.